Living Abroad: These Are The 33 Things I Miss Most About Dublin
Living Abroad: These Are The 33 Things I Miss Most About Dublin
Like plenty of the Michael's in computer science and Siobhan's in marketing, I had found myself presented with an opportunity to work abroad after graduating university. With a degree in Arts from UCD I looked forward to the days of signing on the dole, spending my Sundays in PYG and doing internship after internship. Fortunately an opportunity presented itself in other parts of the world. As awesome as traveling is and how much I enjoy it, there are some homely pleasures I miss about Dublin…
33. First off, Let's Start With The Sunrise Across Dublin Bay
Whether you're flying in over Howth Head, grabbing the DART to work or find yourself still up after a long session in Dublin Mountains, there's no better sight to help ease the morning,
32. Why Did The Dub Cross The Road? Because He God Damn Felt Like It
Let's be honest, Dubliners don't give AF what colour the light is. If they think they can make it from one side of the road to the other alive, regardless of oncoming taxis or the Daniel Day, they'll go for it. Sure feck it like.
31. Getting A Blast From The Past With Dance Music From The Chung Wans Down The Back Of The Bus
This can sometimes wear your patience. Especially on a packed bus at 8am there's nothing better than a few scaldy chunes from da ladz down the back. From good aul DJ Cammy (#celebratethesummer) to Scooter, the chung wans on the back of the bus have created a soundtrack to our Dublin Bus commute and we should be forever grateful.
30. Lazy Sunday Strolls On Sandymount Strand
When you catch Dublin on a glorious day it's good to be taking in the fresh sea air on Sandymount Strand.
29. Days Trips To The Garden Of Ireland
Powerscourt Gardens, picnics in Glendalough, a spin around the Wicklow Mountains: on the doorstep of Dublin it's great to have Wicklow's beauty over yonder. It's grand like.
28. McVities Chocolate Digestives
Whether you're slugging on the couch watching Gogglebox with your Ma, enjoying that post-dinner cuppa or having a cheeky midnight snack: McVities Chocolate Digestives are just lully!
27. Your Ma's Stuffing
source: rsvpmagazine.ie. Every Irish Mammy makes her stuffing her own way, and everyone claims their Ma's stuffing is the best. Sure look.
26. The Sense of Inferiority Being From The Capital
source: giphy. No one from any other nation cares if you're from Dublin. They'll still assume you grew up chasing leprechauns and eat nothing but potatoes *sigh*.
25. That World-Renowned Irish Charm
Source: Facebook.com/IrelandMemes. When it comes to romance we Dubs have a no nonsense approach and get straight to the point. "Will ye meet mii m8? xoxox".
24. Martin Giving The Low-Down On The Weather
source: shemazing.net. No one serves up the weather better than Martin himself. Having him grace the telly of our nation 5 days a week, even getting a birthday nod from your Granny is something we do not appreciate enough. Stay classy Martin.
23. The Acceptable Odd 20+ Cuppas A Day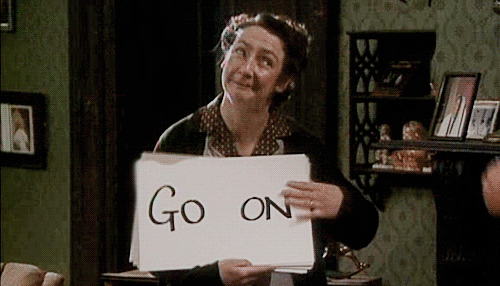 source: iruntheinternet.com. "How many cups of tea have you had today?" – asked no Irish person ever. It simply doesn't matter in Dublin, or the rest of the nation for that matter.
22. Knowing Every 1 in 10 Person You Meet
source:memegenerator.com. Even if Dublin is "The Big Shmoke" it still maintains that small-town daily occurrence of running into someone you know, and must engage with. Whether it be your childhood best friend's Mother or an old co-worker, you're sure to run into someone you know.
21. The Obscure Nicknames The Irish Getaway With Calling One Another
source: quickmeme.com. Ye Geebag. Ye Shitebag. Ye Gobshite. Ye Dope. Ye Absolute Tool. All perfectly applicable.
20. The Downright Bizarre Things That Could Only Happen In The Capital
source: independent.ie.  I literally broke my shite laughing when I read this. But this isn't the only bizarre thing to happen in recent Dublin history; does anyone else remember Spiderman vs. Junkie last year on South Ann Street? Or the accidental legal-loophole allowing the consumption of Yokes and Meth to be legal for 24hrs? Lol Dublin Bantz.
19. Having "12 ORANGES FOR 2 EURO" Belted Into Your Ear
If there was a soundtrack to Dublin the sounds of Moore Street would be track one. The heckles and screams for dirt cheap tobacco and packs of batteries is one of those funny little things you miss about home.
18. A Cheeky Big Mac Meal or Two at 4am.
Yer man: "Where's *whoever*?". Yer wan: "Gettin locked in the toilet.". Yer man: "Ha. Dope.".  <3 Dublin <3
17. Being A Girlo
I genuinely, from the bottom of my heart, miss being a Girlo. It's not socially acceptable in some places to stick on your Pennys false lashes, having your fellow Girlo tanning your back with a sock in the kitchen while you're topping up the rosé and wrecking it to RiRi </3
16. Ending Every Indecisive Decision/Debate With "Sure look"
source: giphy
Sure look is one of the most useful phrases any Irish, let alone Dubliner, can acquire. It can be used to defuse debates, end awkward conversations and it's probably the answer for the meaning of life.
15. Giving Out About Anything & Everything
source: dailyedge.ie
No one does pessimism like the Irish. Whether it be the taxi man or your own Mammy, there is something wrong with everything. Dublin Bus, Dublin City Corperation or Girloz going SuperValue in their PJ's: it's all "Sure isn't that terrible!".
14. €1.50 Underwear In Pennys
There are Pennys (or Primarks if you will) dotted all around the globe: but being able to pop into the megaplex that is Mary's Street Pennys to avail of Pennys finest cheap underwear, socks and a geansaí is a true Dublin perk.
13. 99 Cones
Fighting over flakes and giving out about the price of 99 cones these day is one of those things you miss when you're living abroad. €2.20 a cone! Disgrace. 
12. A Decent Pint of the Black Stuff In The Gravediggers
Voted the best pint of Guinness in Dublin's fair city by all sorts of outlets, I've spent days dreaming of the scrumptious Guinness poured in 'The Gravediggers'. The cosy pub, the cushy atmosphere and the best pint in town. Yes please.
11. Things That Are So Irish It Hurts
source: dailyedge.ie Does this need any further explanation?
10. Workman's Smoking Area
I don't care if it's bleedin' jammers 7 nights a week, the Workman's smoking area provides the people of Dublin with three very important things: chats with strangers, a potential mate and staying open past three.
9. The Lunchtime Burrito, Which Is Always Worth The Queue
source: reddit.com
Boojum. Pablo Picante. Burritos & Blues. The list goes on. Still, only in Dublin is it perfectly acceptable to spend half your lunchtime queuing for a burrito… 3 times a week.
8. 40% Off All Pints On Sundays In PYG Replenishing My Soul
It's near impossible to resist hangover pints at that price.
7. Having King Crisp Sambos At My Disposal
source: rsvpmagazine.ie The amount of times I would murder a King Crisp Sambo is uncanny. I have absolutely no idea if anywhere else in the world sells King, so it's always a treat when i'm home.
6. Knacker Drinking On A "Hot" Summer's Day
A few scaldy pints by the canal or a cheeky naggin by the Pav, if there's one thing Dubs appreciate it's a day for knacker drinking.
5. The Hungover Chicken Fillet Roll
source: @twisteddoodles
Being able to hop down to your local síopa and pick up the pinnacle of Irish cuisine is something we take advantage of. Appreciate every single bite people.
4. Being Able To Talk In Your Own Dialect
source: thar-cionn.tumblr.com
Even if you haven't acquired that thick Dublin accent, having others understand you abroad can be a bit tricky at first. You have to describe everything at an A1 English Honours Level and call things by their actual names: and it's more difficult than you can imagine.
3. Sunsets Over The Liffey
Call Dublin as dirty as you want, when you cross the Liffey as the sunsets behind the Guinness brewery, Christ Church, the Ha'Penny bridge, it'll take your breath away every gosh darn time.
2. Chips in Howth

… or Dun Laoghaire, or after a hike up Killiney hill, there's nothing more rewarding than a bag of chips (batter sausage and spice burger optional).
1. That World Famous Irish Sense Of Humour
source: www.theirishstore.com
This counts for all the Irish: it's no wonder why our humour is world renowned, we are sarcastic beyond means, witty without trying and know there's no harm in taking the absolute piss out of someone. But there's nothing like being surrounded by your fellow people who know you're only messing.
Lazy Gal Out x o x